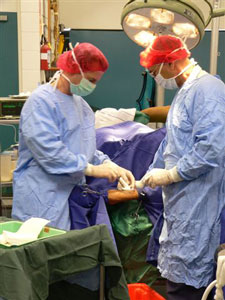 Our equine surgery suite is fully equipped with surgery table, gaseous anaesthetic machine and padded recovery room. This means specialised surgical procedures for colic, bone chips and OCD, rig castrations, throat conditions and tendon and ligament problems to be performed in a clean environment. When under general anaesthesia, horses are monitored closely using indirect and direct blood pressure machines and electrocardiography. Horses can then wake up in the relative safety of the padded recovery room.
Our full time specialist surgeon, Brad Dowling ensures your horse has access to complex life saving procedures if required. Some of the procedures performed include orthopaedic surgery (i.e. arthroscopy, fracture repair), colic surgery, corneal grafting (eye surgery), tumour removal and joint fusion.
Medical cases such as acute diarrhoea, fungal eye infections and many colic cases require intensive medical management. The North Queensland Specialist Equine Service can provide round the clock monitoring and constant intravenous fluid therapy and eye treatments when required.