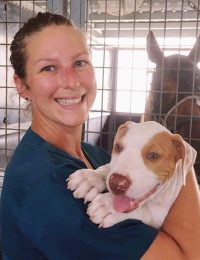 Stephanie moved to Townsville and joined the TVC team in December 2018. She has recently completed her Certificate IV in Veterinary Nursing, previously working at a clinic in Cloncurry in Northwest Queensland.
Before starting her nursing career, Stephanie was a Geologist in the mining industry working all over Australia and in Papua New Guinea. Her love and passion for animals was what led her to complete her studies while still working.
Stephanie enjoys working with both the big and small animals, which was what attracted her to TVC. She wholeheartedly gives all patients the care, attention and affection they deserve while in her care and can be often found sitting in the cage with a recuperating patient or snuggling the smaller patients out the back!
She loves travelling and hopes one day to work overseas as a vet nurse and volunteer with Vets without Borders.