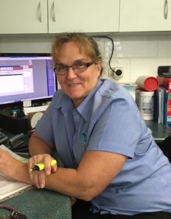 Toni commenced work at TVC in 1983 as part of a small team of reception/admin staff.
Now days she is mostly behind the scenes and really enjoys working as part of the dedicated team at TVC. She jokingly says she will probably be here until retirement – you know the saying about old dogs – unless she wins Thursday night Lotto with Jo that is.
Toni has 2 dogs, Edge and Gus and 2 cats Sid and Ernie, loves her family, enjoys gardening and reading – with the proviso that the books must have happy endings! As her daughter tells her regularly she's hopeless when it comes to sad stories.