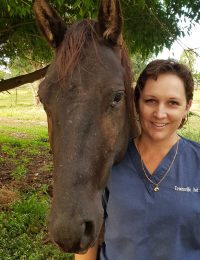 Vikki grew up on a cattle station with a menagerie of animals and spent her pre-children years working as a ringer on cattle stations in western Queensland and Northern Territory as well as a feedlot on the darling downs.
Vikki was a keen camp drafter, but not as much these days with family responsibilities taking priority.
Vikki says she has always thought about becoming a vet nurse. This was impossible until after moving to Townsville in 2007. Now being close to vet clinics she decided it was time to her career as a Vet Nurse especially with the kids getting older.
Vikki started her placement with Townsville Vet Clinic in April 2017 and was offered a permanent position in August 2018. Vikki says one of the best things about working at TVC is getting to look after and play with animals (big and small) every day.