About Townsville Vet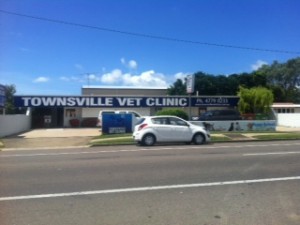 Welcome to Townsville Vet Clinic. We are a warm friendly full service veterinary clinic providing comprehensive healthcare services to pets in our local area of Townsville as well as other surrounding areas such as Charters Towers, Alligator Creek and Black River.
At Townsville Vet Clinic we believe our Patients are our first responsibility. Everything we do must be of the highest quality, servicing our Client's requirements promptly and accurately.
Our goal is to provide our Clients and Patients:
caring, compassionate and professional service suited to your circumstances
to focus on preventative medicine for your pets of all ages
to take Clients through all options of care in detail so you have full understanding of what we do
We pride ourselves on building a strong and friendly relationship with our clients.
The practice employs 8 veterinarians including our clinic Owner/Directors Dr. Ben Czerwonka-Ledez and Dr. Brad Dowling. Brad is the only full time registered specialist in equine surgery in North Queensland. All our Veterinarians are very competent in both equine and small animal health management. Townsville Vet Clinic's dedicated trained nurses and leading veterinarians are all passionate about pets and caring for their well-being.
Townsville Vet Clinic aims to be green a cross the clinic by making use of solar power and aiming to dispose of clean waste to be recycled wherever possible. At TVC we are proud to be part of the Townsville community so we are aware we need to be environmentally friendly by being green a cross the clinic.
The Townsville Veterinary Clinic is built on approximately 1 acre of land with fully fenced grounds which also includes not only our small animal clinic but our equine stable with hospital facilities for up to 16 horses.
Our small animal clinic is fully equipped to allow TVC to offer all services from consultations, wellness checks, yearly checks and immunisations, pathology, dental care, x-rays and ultrasounds to soft tissue and orthopaedic surgery. See our small animal tab for more information.
Our large animal clinic is also fully equipped to allow TVC to offer equine reproduction services, vaccinations and health checks, radiography, endoscopy and surgery. See our large animal tab for more information.
We pride ourselves in providing a caring and professional service employing up to date techniques in veterinary medicine and surgery when looking after your special family members.
We aim to get to know both you and your pets so we can always be there for you, right through your pet's lives, however you may need us.