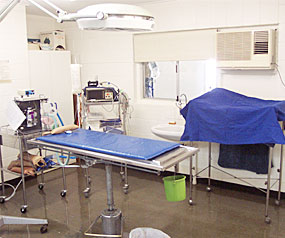 Our small animal clinic is purpose built and was established in 1975. We have a dedicated surgical suite, with a separate preparation/wet surgery area to prevent contamination of our theatre. We utilise isoflourane gaseous anaesthesia, heart rate and blood pressure monitoring to maximise your pet's safety.
Our in-house laboratory ensures quick turnaround on general health profiles, emergency and sick patient blood analysis. This provides us with quick information without delay, on the health status of your pets. Combined with our ultrasound and radiography facilities, medical and surgical cases can be worked up quickly and efficiently with only the most difficult of cases referred on to specialists.
We are able to do pregnancy ultrasound on breeding bitches and queens. Abdominal and ocular ultrasound can be performed in the cases that require them. TVC also possesses a number of endoscopes allowing us to examine for respiratory infections and gastrointestinal tracts for stomach and intestinal disease without invasive surgery.
Teeth are for life, so it is important to take good care of your pet's teeth. At the Townsville Veterinary Clinic we provide comprehensive advice on oral hygiene and dental care. We carry out routine dental scaling and polishing and extractions are only performed when deemed essential.
You can be assured that our trained nursing staff will give the best of care to your hospitalised pets while they are recovering from their surgeries and illnesses.