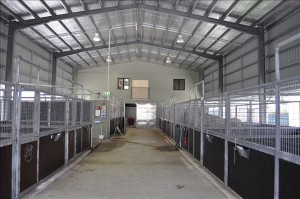 The Townsville Veterinary Clinic Large Animal Facility was purpose built in March 2010 on approximately 1 acre of land. The grounds are fully fenced with ample parking for trucks and floats to unload your horse safely. There are hospitalisation facilities for up to 16 horses including intensive care, Mare and foal, isolation and Stallion stalls.
There is also a moveable loading ramp to utilise if needed to unload your horse.
We have 2 undercover examination areas equipped with crushes for routine procedures and reproductive examinations. Radiographic, ultrasound and endoscopic examinations are performed in the comfort of an enclosed air-conditioned examination room.
Our equine surgery suite is fully equipped with surgery table, gaseous anaesthetic machine and padded recovery room.
This means specialised surgical procedures for colic, bone chips and OCD, rig castrations, throat conditions and tendon and ligament problems to be performed in a clean environment. When under general anaesthesia, horses are monitored closely using indirect and direct blood pressure machines and electrocardiography. Horses can then wake up in the relative safety of the padded recovery room.
You can be assured that our Vets and trained nursing staff will give the best of care to your animals while they are recovering from their surgeries and illnesses.