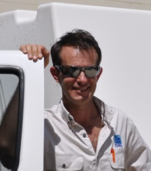 Brad is a partner in the Townsville Veterinary Clinic and a Registered Specialist in Equine Surgery and founder of the North Queensland Specialist Equine Service.
After graduating from the University of Queensland in 1992, He worked at the Townsville Veterinary Clinic for 12 months, spent 3 years in Rockhampton and moved to the University of Sydney in 1996.
There, he completed a residency in large animal surgery, a Master of Veterinary Clinical Studies degree in bowed tendons and Fellowship in Equine Surgery.
Brad was the chief of equine surgery and head of equine clinical services unit at the University Veterinary Centre Camden. He has published and authored over 36 articles, reviews and book chapters and presented material at national and international veterinary conferences on a wide range of veterinary topics.
Brad's research and clinical interests include treatment and healing of bowed tendons, upper respiratory tract problems and noises, surgical management of colic, lameness diagnosis and treatment, hock arthritis, pre-purchase examination, poor performance evaluation, wound healing, orthopaedic surgery, diagnostic imaging, and navicular disease.